Theme: A Leap Toward Tomorrow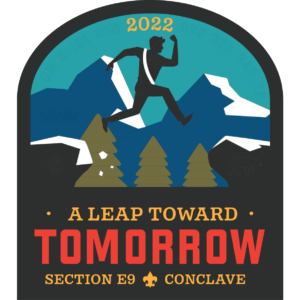 Dates: April 29 – May 1, 2022
Attendance: 726
Location: Camp Shenandoah, Swoope, VA
Service Lodge: Shenandoah Lodge #258
Weather: Cool and clear on Friday. Overcast with light rain midday Saturday that cleared up by Saturday night. Partly cloudy Sunday with scattered showers after most participants left.
Presiding Officers: Section Chief: Eli Hattersley (Shenandoah #258); Section Vice Chief: Kaitlyn Röetz (Blue Heron #349); Section Secretary: Tyler Fowden (Nawakwa #3)
Officers Elected: Section Chief: Zach Grinvalsky (Blue Heron #349); Section Vice Chief: David Gosik (Blue Heron #349); Section Secretary: Wyatt Bryant (Tutelo #161)
Awards: Lodge of the Year: Nawakwa #3, Quest for the Golden Arrow: Nawakwa #3, Spirit Award: Wahunsenakah #333
E9 Legacy Fellow Recipient: Richard C. "R.C." Hartman (Shenandoah #258)
Special Guests: 2022 Nation Vice Chief: Steven Buer (Kit-Ke-Hak-O-Kut #97); 2022 Eastern Region Chief: Alex Pillis (Tschitani #10)
Conclave Service Project: In 2022, Section E9 partnered with Loaves and Fishes, a food pantry serving the Greater Charlottesville area to package food care packages and goods for Afghan Refugees in the community. At Conclave, arrowmen donated over 1,100 pounds of food products and spent Saturday morning assembling over 300 care packages. The packages assembled helped feed families and refugees who require a specific diet. The annual silent and live patch auctions as well as registration donations were also hugely successful and collectively raised nearly $3,000 that will be sent to Loaves and Fishes to support their work.
Notes: Due to the postponement of the 2021 SR-7A Conclave from its usual spring weekend to late summer, arrowmen gathered for the 2022 Conclave just seven months after the prior Conclave. Between Conclaves, the Order of the Arrow re-aligned regions resulting in a new name for the Section. Eastern Region Section Nine (E9), which was formerly Southern Region Section Seven A (SR-7A), had no territory changes and remains the six Virginia-based lodges. This was the first Conclave under the Section's new name: E9.
2022 Conclave Registration by Lodge
| Lodge | Registration Goal | Actual Registration | Percent of Goal |
| --- | --- | --- | --- |
| Nawakwa #3 | 135 | 109 | 81% |
| Tutelo #161 | 80 | 55 | 69% |
| Shenandoah #258 | 165 | 135 | 82% |
| Shenshawpotoo #276 | 80 | 51 | 64% |
| Wahunsenakah #333 | 150 | 190 | 127% |
| Blue Heron #349 | 140 | 155 | 111% |
| Guests & Visitors | 10 | 31 | 310% |
| Section Total | 760 | 726 | 96% |
2022 E9 Conclave Vice Chiefs, Chairmen, and Advisers
| Program Area | CVC/Chairman | Adviser |
| --- | --- | --- |
| Service Lodge | Ben Chisholm - 258 | Jeff Holsinger - 258 |
| Adult Amusements | Alex Taylor - 258 | Jay Fox - 258 |
| American Indian Activities | Wyatt Bryant - 161 | Chris Bryant - 161 |
| Ceremonies | Andrew Abernathy - 161 | Gary Cassell - 333 |
| Conclave Service Project | Zach Grinvalsky - 349 | Chris Axford - 258 |
| Conclave Expo | David Gosik - 349 | Sandon Knicley - 258 |
| OA High Adventure | Elena Tangredi - 349 | Chris Fowden - 3 |
| Quest | Mack Calvert - 161 | Matt Orlando - 276 |
| Shows | Andrew Peterson - 349 | Seth Greiling - 349 |
| Special Events | Ruger Jennings - 333 | R.C. Hartman - 258 |
| Training | Kaitlyn Röetz - 349 | Matthew Good - 258 |
2022 Conclave Overall Award Results
Lodge of the Year Award
Quest for the Golden Arrow
Spirit Award
Nawakwa #3
Nawakwa #3
Wahunsenakah #333